[Insert Map]
November 8 – November 18, 2022
Day 1, Tuesday, November 8
We originally booked our cruise for end of September, but it was cancelled due to Hurricane Ian. We were able to re-book a similar cruise for November 8-18.
Leaving from Cleveland to fly to Orlando, temperatures were in the low 70's – the last remnants of our Indian Summer. We thought we had rescheduled our cruise late enough in hurricane season, but Tropical Storm Nicole had other thoughts. We received notice from the cruise line that the ship would be departing a couple hours early to beat the storm out of Orlando – we still had plenty of time factored into the flight. Then we got notice from the airlines that the flight was delayed an hour! Still enough time but making us nervous! After checking our bags (at the new limit of 40.0lbs exactly), and going thru security, we still had time for the required pre-flight drink at The Pub. By 9 AM, we were wheels up and the flight down was pretty smooth – they made up some time and we were in Orlando by 11AM but then had to wait 20 minutes for them to bring out the jetway. After being escorted through a maze at the airport, we boarded the bus to the cruise terminals at 12:30. An hour later, the wind was already whipping everything around at the cruise terminal, and everyone was receiving emergency weather alerts on their phones, making it a little nerve-racking.
After checking in to our emergency evacuation station, we went to our room and changed into warmer weather clothes to explore the ship. We had a couple of hours to check out the ship and grab a couple of drinks before heading out to sea. The waves were a bit choppy – later we found out that they were up to 24′ high! Watching everyone stagger down the hallways like a bunch of drunks was amusing! The waves in the pool were almost as big as Cedar Point's Wave Pool, so we decided to make the best of it and enjoy a soak in the hot tub – between the ocean spray coming over the side of the ship 15 decks up and the water sloshing out of the hot tub, it was quite an experience! Now we can check off "Hot tubbing on a ship in a Tropical Storm" from our Bucket List!
We had reservations for a fancy French dinner at Le Bistro restaurant our first night on the ship, so we went back to our room and changed into our finest evening attire. The restaurant wasn't very busy – we think a lot of people cancelled their reservations due to the rocking of the ship! We both tried escargot for the first time – very good drowned in butter and pesto! Betsy enjoyed a beet salad, while I had the French endive salad. We both chose fish as our entree- Sole for Betsy and Chilean Sea Bass for me – both delicious! For dessert, Betsy got a decadent chocolate raspberry cremeux, and I had the strawberries and cream. A bottle of Pinot Grigio went well with everything.
Day 2, Wednesday, November 9
We started off the day with breakfast at the buffet and mimosas on the sun deck. We spent most of the day exploring the ship, including a visit to SKYY Ice Bar, where the furniture and cups are made of solid ice and the temperature is kept at a cool -15C (about 5F). We enjoyed a beautiful sunset from the 8th floor balcony walkway, then dinner at Taste before the Howl at the Moon dueling piano show at Headliners.
Day 3, Thursday, November 10
Another day at sea. Pool party at lunch time, mojitos at Sugar Cane, some pool time, sunset on the deck, comedy show, and "Newly Wed, Not So Newly Wed" game show. Ya know, typical lazy day.
Day 4, Friday, November 11
First port of call – Charlotte Amalia, St. Thomas, US Virgin Islands. We took a converted pickup/mini-bus for a quick drive up steep, curving roads to Drake's Seat – an overlook to Magen's Bay, then down to Magen's Bay Beach for a few hours in the sun, enjoying some local beers. There was a guy everyone just called "the coconut guy" – a 66 year old man that climbed coconut trees and chopped down fresh coconut and sold them on the roadside – so fresh and delicious, especially after Betsy added a shot of rum at the beach bar!
Afterwards, we had a few hours left, so in typical "Von-Gura" style, we decided to walk to the downtown area, exploring along the way. We sampled a few local brews at the Virgin Islands Brewery gift store while escaping the brief rain. We then went down the block to Taphaus for a couple more beers, then Stone House Cafe Bar & Restaurant for dinner and a couple more local brews. We started with crab stuffed mushrooms, then split the coconut crusted Carribean Mahi with bacon and pineapple fried rice, and citrus cabbage and arugula slaw with lemon grass coconut cream glaze. Dessert was Dizzy Ice-cream from a shop down the street, ran by a former Ohioan – bourbon infused vanilla ice-cream!
We decided for a quick walk back to the ship to help work off all the food and drink, but Betsy was getting a bit nervous by the end, thinking I'd get us lost on a foreign island with our ship leaving us behind! We had a good half hour to spare! 🙂
Day 5, Saturday, November 12
Next port of call, St. John's, Antigua (not to be confused with St John's, Virgin Islands which was next to where we just came from!). Took a guided "selfie tour" that takes you to the top photographic locations.
The stay at the beach was too short and there wasn't much to do back in town, so we bribed the bus driver to come back and get us a couple hours later. We enjoyed a few cold Caribs and a couple Pain Killers at Mystic Beach Bar and Betsy relaxed in the sun with a beach massage! The owners' dog made herself and home and guarded our beach chairs for us while we took a swim in the ocean.
Day 6, Sunday, November 13
Beautiful Sunday morning in Castries, St. Lucia. Today, we hike up the Petons and take a dip in a waterfall pool. The drive out and back was a couple hours each way, up and down winding mountain roads – thank goodness I was not driving!!! We stopped by an old mill converted to a restaurant on the way back and had some delicious curry green bananas over pineapple rice, lentils, and jerk chicken. The green banana has a similar taste and texture to potato and is considered a vegetable. Back to the ship for sunset as we left the port, then dinner at Shanghai Noodle.
Day 7, Monday, November 14
Since we've been to Saint Maarten before, we decided to rent a car and do our own mini tour to revisit some of the places we liked. After we got our rental car, we stopped by Buccaneer Beach Bar for a quick walk down Kim Sha Beach and a drink (had to wait until they opened at 11am – amateurs!). Then on to Mullet Bay beach to take a quick swim in the ocean. We then had to go to Karakters for lunch – if you're ever in Saint Maarten, you have to stop here – it's an old bus parked on the beach converted into a restaurant- excellent food and character! We hung out here on the beach for a while, then headed toward the French side to visit more beaches. First stop was Cupecoy Bay beach – forgot this is where the old naked people hang out! :-O We then continued up to the northern side and realized why we hadn't had a chance to visit most of these beaches – they were all behind private gated communities. The French side of town was run down a lot more than we remembered, probably still due to storm damage from Hurricane Irma in 2017. We decided to find Lover's Beach then head back to the ship – little did we know that Lover's beach seems to have been deserted years ago and the road back was barely a road any longer!
We wanted to go back and visit Pirates in Paradise in Philipsburg – we were there exactly 9 years ago, but an incoming storm forced us back to the ship early.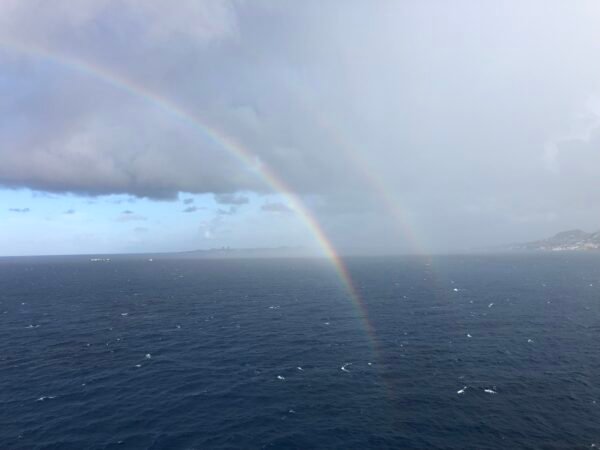 Day 8, Tuesday, November 15
Today's port was San Juan, Puerto Rico. We stuck to the Old San Juan historic area and used a self-guided audio tour created by 6-graders in the area as a school project – it was excellent! It took us to about 20 different historic sites, including the Castillo San Cristobal and Castillo San Felipe del Morro forts. The Santa Maria Cemetery was breathtaking. After the tour, we stopped by a local restaurant for authentic Puerto Rican food – fried plantains with pork and onions and chicken empanadas. We also sample a couple local beers and drinks.
After we returned to the ship, we watched the Syd's Pourhouse Rock the House show.

Day 9, Wednesday November 16
Last stop of the cruise is Amber Cove, Dominican Republic. We did a "Highlights of Puerto Plata and Beach Escape" excursion. We took a bus into Puerto Plata and did a walking tour of the main square, pink alley, umbrella alley, a chocolate and coffee shop, and a cigar museum.
Doña Blanca Walk ("The Pink Alley") is a small alley in the center of Puerto Plata painted entirely in pink. This beautiful alley is a tribute to the founder of the first hotel in the city of Puerto Plata, the Europa hotel. Doña Blanca is credited with starting the tourist industry in Puerto Plata and was known for her humanitarian efforts to provide care and treatment to cancer patients.
Dominican Republic's cigar industry has prospered well due to the embargo of Cuban cigars to the U.S. We got to see the process from start to finish of making hand-rolled cigars and got to try one.
Afterwards, we drove to a resort where we had lunch and spent a couple hours on the beach. Then back to Amber Cove where we bought a couple DR beers and checked out the pool and nature areas. Looking forward to a relaxing evening back on the ship.
Day 10, Thursday November 17
Last day of the cruise – sea day back to Canaveral. Breakfast, nap, a show, lunch, another nap. A presentation of upcoming cruises and new ships, the Junk Dinner Show – where all instruments were made from recovered waste! Made our rounds around the ship to make sure we didn't miss any of the 18 bars – them back to the room to pack.
Day 11, Friday, November 18 – Travel Day
Off the ship at 9AM, we made our way back to the airport where we worked for most of the day before our 5PM flight back home. We were treated to a beautifully red sunset on our flight out and a loop around the lights of downtown Cleveland on our way home.